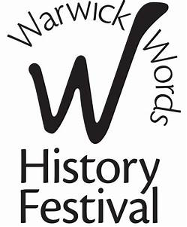 An update from Warwick Words History Festival;
The good news is that we are currently planning the Autumn Festival, which will be held from 4 to 10 October, with pre-Festival events on 1 October.
We are delighted to announce that the following authors have already confirmed that they will be joining us in October: Dan Jones, Alison Weir, Charles Spencer, Tracy Borman, Nicola Tallis, Ghee Bowman, Lauren Johnson, Lesley Smith and Greg Jenner.
If you can't wait until then we have re-released the seven local talks, Soundbites of Warwick, from last year's Digital Festival on our Events page on our website.
————————————————-
Click here to download the current What's On Guide provided by Unlocking Warwick,  or read it here…
There's always plenty to do in Warwick, with a wide range of events throughout the year. This handy long-term calendar is a guide to some of the most interesting, with links or contacts for more information. If you are organizing an event that you think will be of interest to visitors or local people, email the details well in advance to whatson@unlockingwarwick.org  It's updated each month. 
Please see below featured events in Warwick. Please contact admin@visitwarwick.co.uk if you would like your event to be listed.
Warwick Folk Festival *Postponed*
Following extensive planning and discussion in light of the most recent government guidelines, with huge regret it has been decided that Warwick Folk Festival, which was due to take place 15 – 18 July, will be postponed until 21 – 24 July 2022. This decision has not been taken lightly, but with the current situation, our absolute priority is the safety of our staff, artists, traders, audience and the local community. As previously, your tickets can be transferred to next year's festival. Thank you to everybody for your continued support and efforts during this difficult time, we miss you very much.